I recently stated that research brings people together. Here is a second example of Bansi Tchatchouang Sidoine Brice, who worked a while ago at ESB in Nantes, France, for the CaReWood project in WP4, gluing different wood species.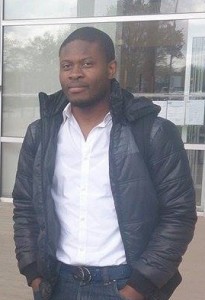 What is your task in the project?
I work on the scientific and technological study of a process of recovery of wood recycled within the CaReWood project (WorkPackage IV). The objective is to estimate the dimensional stability of laminated wood beams made with various species. A finite element model will be realized and validated by the experimental observations. This model will allow us to assess the stress inferred and to study several possible of configurations.
What motivates you to work on the project?
I find this concept of adding value to recovered wood very relevant and innovative at the economic, environmental, industrial and scientific scales. At the end of this project we should be able to see quality laminated products made from various species of waste wood. I delighted all the more as the valorization of waste wood seduces more of one and is more and more a real challenge.
If a fairy granted you a wish related to CaReWood, what would it be?
Inauguration industry of manufacturing of the products of engineering wood from 100% recycled wood.
Wood is a material with several advantages. What would make it better?
Of the element of structure in the structure; understand and improve wood behavior under hygro-thermo-mechanic load.
Tell us about your education.
Master I in chemistry and physics science in University of Yaounde I. (Cameroon).
Master Degree of Materials Sciences Applied: Modelling and simulation of wood material Central School of Nantes (French).
Engineer of wood: Research option. Science and Mechanic wood in Academy of Wood Science and Technology Nantes (French).
Which person do you most admire?
Friedrich Kekulé von Stradonitz for his curiosity, works.
What is your greatest extravagance?
It is my mother who always buys my under clothes.