Research brings people together. Example needed? Mike Burnard, born and educated in the US, working on an European research project in Slovenia, translating between wood and computer scientists. More about Mike in the interview below.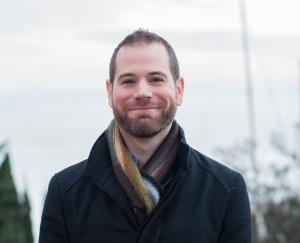 What is your task in the project?
Translating between wood scientists and computer scientists at UP. Attempting to piece together a coherent picture of Slovenia's wood waste handling.
What motivates you to work on the project?
Finding a path to greater resource utilization through designing products for reclamation and developing a system for collecting old products and components is a complex puzzle and that's interesting to me. However, the people on the project are the real motivation for me. From when I first met the group shortly after I arrived in Europe, I've found all the partners to be kind, insightful and supportive.
If a fairy granted you a wish related to CaReWood, what would it be?
Unified and implemented European waste legislation and related databases to follow the materials.
Wood is a material with several advantages. What would make it better?
The onus is on us (scientists, researchers, industry members) to better communicate the advantages wood has, along with how to properly use the material and deal with it at the end of life of any given product to a wider audience.
Tell us about your education.
After a rather tumultuous first few years as an undergraduate at various universities in the US, I finished my bachelors in Management with a focus on strategic and operations management at Linfield College in Oregon, USA. I did my Master's of Science at Oregon State University in Wood Science where I examined crack development in thin veneer overlays on decorative plywood panels (like kitchen cabinets).
Which person do you most admire?
I'm frequently amazed by so many people that I couldn't possibly choose just one. I'm writing this as the NASA New Horizons space probe nears Pluto, so currently I most admire all the people who have worked, are working and will work on that amazing project. It's astonishing!
What is your greatest extravagance?
Scotch and computers; maybe my board game collection.