Establishing and using an "urban forest" under consideration of design for recycling standards is key to WP2-leader Prof. Dr. Alfred Teischinger from BOKU, Austria.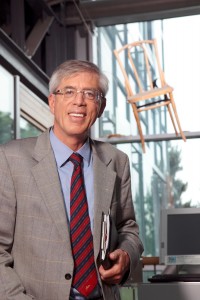 What is your task in the project?
Work package leader, coordinating the research in work package 2, scientific input and validation of the various subtasks and results.
What motivates you to work on the project?
Interesting ideas with respect to cascade use of wood. Network in this area of secondary wood utilization as a new approach.
If a fairy granted you a wish related to CaReWood, what would it be?
To establish and to utilize an "urban forest" in the sense of significantly built environment of wood in construction, indoor design and other applications also to be utilized in a cascade way in the future.
Wood is a material with several advantages. What would make it better?
Wood functionalization and wood material engineering combined with innovative manufacturing methods. Design for reuse and recycling is part of this.
Tell us about your education.
Graduated in Wood Technology at BOKU University Vienna, practical experience from various internships in wood industry and from home (sawmill and window components production).
Which person do you most admire?
It is difficult to focus on one person but Mahatma Ghandi, Michael Gorbatschow in politics, W. Shakespeare and F. Schiller in literature are some of those.
Concering Science I admire many of the great scientists from past and today, but Lise Meitner and Andrei Sacharow deserve my special respect.
What is your greatest extravagance?
Basically I am very balanced. Taking specific sport and leisure time opportunities immediately at chance (nice weather and snow to be expected – night train to Tirol in order to take the opportunity) might be such an extravagance.