This month, one of our Master students from BOKU, Austria, answers our questionnaire.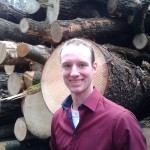 What is your task in the project?
I am writing a "Design for Disassembly" guideline, which should help designers and developers of wood windows making their products easier to reuse and recycle. The guideline contains ideas and approaches how to improve products to prevent fast downcycling, as the wood used for windows is of very high quality.
What motivates you to work on the project?
Problems with waste, energy and resources are some of the big challenges of our time. I think that a cascading use is very intelligent, and it has a high potential to combat these problems. To implement the theory into economy and to make it profitable is the important step to really change something.
If a fairy granted you a wish related to CaReWood, what would it be?
That the outcomes and results of our work will find their way into practice and economy.
Wood is a material with several advantages. What would make it better?
If it could be (heat) formed without destroying the structure.
Tell us about your education.
After secondary school I attended a technical school for business management and wood industry for five years in Kuchl. Then I came to Vienna to study "Wood Technology" at the University of Natural Resources and Life Sciences, where I am currently at the end of my master.
Which person do you most admire?
Reinhard Mey
What is your greatest extravagance?
My impatience…