From today on, we will present ourselves to the readers in a new series "People Behind the Project" with one person working on the project. Each month a new research member from CaReWood presents him- or herself in a short questionnaire.
Our project coordinator, Klaus Richter from TUM, goes first: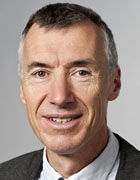 What is your task in the project?
Initiator of the proposal and project coordinator.
What motivates you to work on the project?
The topic – the vision – the challenge – the team.
If a fairy granted you a wish related to CaReWood, what would it be?
An offer of the commission for continuing funding of cascading research.
Wood is a material with several advantages. What would make it better?
Biocompatible technologies to control bio-deterioration, wood-moisture interactions and combustion.
Tell us about your education.
I graduated in Wood science, Wood technology and Wood economy at the University of Hamburg (Diplom-Holzwirt), and got a PhD (Dr rer. nat.) for my research on tree-ring and climate interaction of Spanish pine trees.
Which person do you most admire?
Dr. Martin Luther King for his vision, his persuasive power, his straightness.
What is your greatest extravagance?
? Do I have any? Maybe this: I keep a diary since I´m sixteen: I´m an outmoded blogger